Toledo Industrial Sewing Machines
Cowboy CB227R Medium Duty Leather Sewing Machine
Specifications and Pricing
Model: CB227R
Arm Length: 10.5"
Arm Diameter: 3.0" + tapered
Maximum Foot Lift: 1/2"+
Max Sewn Thickness: 3/8"+
Needle: #135x16/17: #16-#24
Thread Sizes: #46 - #207
Bobbins: Standard industrial
Max Speed: 2200 spm
Max Stitch Length: 5 per inch
Pull-down reverse stitch length lever
Adjustable speed, heavy duty servo motor, with built-in 3:1 gear reduction
Deluxe adjustable stand on casters
Long neck, hi-intensity flex lamp
Uses standard type 111 presser feet
accessories & upgrades available
$1595.00, plus shipping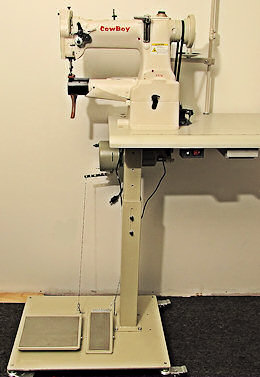 Cowboy industrial sewing machines are built to exacting standards and are capable of sewing real leather, as well as cloth, webbing, bioplastic and other materials.
The Cowboy CB227R sewing machine, pictured here (close-up view), is capable of sewing up to 3/8" of leather, webbing, or denim, with up to #207 bonded nylon or polyester thread.
The machine has a 10 1/2 inch long cylinder arm (a.k.a: free arm) and uses the same multitudinous and inexpensive needles and pressor feet as the Singer 111w155 and most other walking foot machines. The throat cover plate is cut off close to the left end of the arm, allowing you to sew gussets and other projects that have narrow flanges (with narrow feet). You can let shaped items hang down and sew along the back, very close to the edge.
The CB227R features a forward/reverse stitch length lever, which you pull down to backtack to lock your stitches. The positive compound feed is performed by a combination of a bottom feed dog, timed with a moving needle and moving inside presser foot. It has alternating pressor feet, with the outside foot used to secure the work between stitches. This ensures that all layers move together and remain in alignment. It also guarantees consistent stitch length, due to the needle, inner foot and feed dog all pulling the material at the same ratio.
The Cowboy CB227R is an ideal machine for sewing the edges of belts, straps, pancake holsters, shaped and round cases, purses, hats and caps, backpacks and heavy garments (like jeans). This is also a perfect machine for sewing around arm holes, hems and cuffs on both cloth and leather garments, as the circular work can freely revolve around the cylindar arm.
Other uses for this machine include saddle bags, motorcycle seats, small animal harnesses, leashes and collars, concealed gun holsters, nylon webbing tow ropes, rifle slings, and even for installing zippers.
Every new CB227R purchase comes complete with a servo motor, featuring built-in 3:1 gear reduction, mounted on a deluxe, adjustable height pedestal stand, with locking ball bearing castors. Also included are four bobbins and one pack of 10 needles (to match your preferred thread size).
The Cowboy CB227R has triple, or compound feed and is perfect for sewing all kinds of leather or vinyl projects, up to 3/8 inch, or so (you can get a bit more). If you need to sew material that is considerably thicker than 3/8 inch, with thread heavier than #138 (top and bottom), you may want to consider buying our single feed, heavy duty CB2500, or one of our super heavy duty triple feed "441" style machines, with a smooth feed dog and high lift walking feet. Please take a look at the 9" arm Cowboy CB3500, or the 16.5" Cowboy CB4500, or the 25" arm Cowboy CB5500. All three of these large stitchers are capable of sewing over 3/4 inches of leather, with a size 415 thread handling capacity.
See our complete line of Cowboy sewing machines
Call us toll free, at: 866-362-7397 for more information, or to place your order.