Toledo Industrial Sewing Machines
Industrial Sewing Machine Thread
Single Color Thread Prices and Sizes
1/2 pound spools: $10.00 each, available in sizes #46, #69, #92
---
1 pound spools: $18.00 each, available in sizes: #138, #207, #277, #346
---
Primary Colors Stocked
Black, white, straw, light brown, and medium and dark brown
Ask about other sizes, colors or shades
See our needle and thread size chart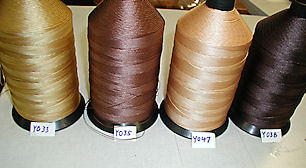 Toledo Industrial Sewing Machines is the US dealer for the Cowboy® brand of industrial sewing machine thread, as well as other brands. We have a large supply of bonded nylon thread, in sizes 46 through 346, in a variety of colors.
We mostly stock thread in either 1/2 or 1 pound spools (see comparison photo)
We are now having our own brand of bonded and pre-lubricated* nylon thread made for us, under the Cowboy label. We are stocking Cowboy thread in five primary colors. They are black, white, straw, light brown and dark brown.
Cowboy bonded nylon thread is dyed consistently across the different sizes we carry. This ensures that if you switch sizes on a project, or choose to have a larger size on top then in the bobbin, the colors will match. And best of all, we now have Cowboy thread in stock in 6 of the most popular sizes, from #69 through #346.
We still have a large amount of thread on hand, from various suppliers we have dealt with in the past. Tell us what you need and we will try to fill your order, from existing stock.
We will order other colors if demand increases for them. Call us if you need a large quantity of a particular color and size of thread. We will quote you a price and estimated time of delivery.
Just In: We now have some 1/2 pound spools of #46 nylon variegated thread in stock, in 6 color schemes.
Supplies are limited, so order now. Our price for 1/2 pound spools of variegated thread is $38.00 for one, or $35.00 each for two or more spools.
Variegated thread has multiple colors dyed into each bonded strand.
* Pre-lubricated bonded nylon thread is less likely to fray, or come unbonded, from a hot needle or dense leather. It also cools the needle as you sew, allowing for faster stitching.
Call us toll free, at: 866-362-7397, to discuss your sewing accessories and thread needs.